Red wine is quite popular in wine stores, and restaurants offer various reds, from light and fruity ones to dark, concentrated ones with an almost chewing texture. Many red wines are labeled with the grape variety Merlot, Cabernet Sauvignon, Pinot Noir, etc. I will talk about these three of the most popular types of red wine.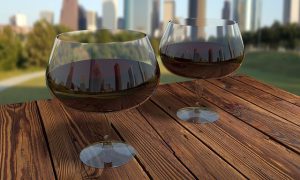 You might be familiar with these terms, but what do they really mean? What is a Merlot really like? Is it lighter and more full-body than a Cabernet Sauvignon, and will it go well with that chicken breast you'd like to try? Of course, to enjoy wine, you don't need to be closely familiar with the features of the grapes they are made from, but knowing a little about the profiles of the most common grapes and their wines will help you be a better consumer. It will help you describe what you like and choose the wine you will enjoy. So in this primer, we will go through the most common grapes from which red wines are made. Merlot, Cabernet Sauvignon, and Pinot Noir are sometimes called international varietals because they grow in many different regions worldwide. The wines produced from them vary depending on the amount of sunshine, the amount of rain, the way the grapes are picked, and the winemaker's vision. Here we will focus on these grapes' standard features to help you become a better-educated wine consumer. Later you can start exploring the differences in the wines made from Cabernet Sauvignon in France and California, for example. But, for now, let's focus on what they have in common.
The Most Popular Types of Red Wine
Let's Start With Merlot as the First Among the Most Popular Types of Red Wine
We'll start with Merlot. Merlot is the misunderstood grape. Some love fruity, easy-drinking, juicy wines. It produces and orders it indiscriminately. Others think that it is not even worth considering. But this grape can make some great wines from well-structured and long-lasting wines. From the right bank of Bordeaux to the fruity, rich, and concentrated wines of Washington State. Merlot wines are capable of significant stylistic variation, which is why it is important to know a little about the grape and be able to ask the right questions of the people who sell you the wine. Getting to know Merlot will also help you enjoy some excellent wines that are priced lower than those from wines of comparable quality made from more famous grapes, such as Cabernet Sauvignon, and never bad-mouthed Merlot because chances are you have enjoyed it whether in the wines of Bordeaux, where it is always blended with Cabernet Sauvignon and Cabernet Franc, or in other wines. In some counties, the Merlot grape generally produces softer, less tannic wines than Cabernet Sauvignon wines, with more fruit and more roundness around or texture in the mouth because of this. It is often added to more austere, less fruity wines to round them out and add the fleshiness that appeals to wine drinkers. The grape also has high sugar levels, making Merlot-based wines high in alcohol. Because simple Merlot can be almost too simple and fruity
Merlot wines are often aged in oak.
This adds some structure to tannin and makes them more aged-worthy and capable of standing next to more rich foods. Look for flavors of plums, black cherries, or more often dried cherries, figs, and if the wine is aged in wood, Brown spices such as nutmeg and clove chocolate and coffee. Who would not love a well-balanced mix of black cherries and chocolate with a hint of nutmeg? To get a sense of the variation, Merlot can produce simple, affordable Merlot from California, then a more structured one from Washington, or a highly structured one from Sent Emilion in Bordeaux. You will be surprised by the many phases of this grape that have been unjustly accused for decades. So next time you're out and you see Merlot on the wine list, consider what it can do and give it a chance to surprise you.
Cabernet Sauvignon
Now let's talk about Cabernet Sauvignon, Merlot, and so many more famous friends. Many are surprised to learn that Cabernet Sauvignon is often blended with Merlot. This is always the case in the wines of Bordeaux. If you're drinking a Bordeaux from the right bank, you're drinking way more Merlot than Cabernet Sauvignon and sometimes no Cabernet Sauvignon. On the left bank of Bordeaux, Cabernet Sauvignon is always blended with Merlot for richness and roundness. So what is Cabernet Sauvignon, and what kind of wines does it make? Wines from Cabernet Sauvignon are usually highly structured big, and bold. They make a statement, be it with the high amount of tannin or the pungent aroma of oak. Some can be so tannic as to be almost undrinkable when they're young. Others are well-balanced and have enough aroma flavor and richness to balance the high tannin. Remember, tannin is the substance that causes that mouth-drying feeling you get when you take a sip of tea. Cabernet Sauvignon wines have been quite popular, although that popularity has been maintained somewhat by the meteoric rise of Pinot Noir.
Many wines from Cabernet Sauvignon are full-bodied and demand all of your attention, and can overpower any food they're paired with.
But Cabernet Sauvignon can much more refinement and balance in long aging to get a sense for some of the stylistic variations. Cabernet Sauvignon can try a big Napa cab and then a Bordeaux from the left, mostly Cabernet Sauvignon. Cabernet Sauvignon has the aroma of dark fruits, blackberry, and blackcurrant cassis, especially in California's hint of mint and eucalyptus. It is often oak-aged, which imparts a smoky, toasty aroma of tobacco cedar cigar box and vanilla. Cabernet Sauvignon can be so robust and significant that it's best enjoyed on its own or with a big steak. But some of the more balanced and refined Cabernet Sauvignon pairs well with more decadent dishes, usually meat.
Pinot Noir
Pinot Noir is a red grape that has been wildly popular in the last decade or so. Those who love Pinot Noir are often attracted to a particular style. The luscious fruit-driven dark Pinot Noirs of Oregon and California or the light-colored, more earthy, more acidic Burgundy wines. Either way, once someone becomes attached to Pinot Noir, it isn't easy to get them to act rationally. If you have a friend who's spending every paycheck on cases of Oregon Pinot Noir or is always on the lookout for the next release of red Burgundy, you know what I'm talking about. Even though it might seem like Pinot Noir is native to Oregon, where many of its more modern versions come from, it's actually native to France, where it has been grown on the golden slopes of Burgundy for centuries, As early as the Middle Ages. The monks made excellent Pinot Noir wines highly prized among the church dignitaries and kings. Today red Burgundy, which is always Pinot Noir, attracts a similarly well-off audience. Most burgundy producers have minuscule lots and produce minimal quantities that have fueled the burgundy craze. Good Burgundy is an excellent wine sophisticated, complex, seductive multi-layered. It's truly a shame that we can't enjoy it more often. But there's much great Pinot Noir in other parts of the world, albeit of a very different style.
Pinot Noir From California
Today great Pinot Noir comes from Oregon, California, especially the more northern parts of New Zealand, and even Germany like Merlot. Pinot Noir is capable of great stylistic variety, so Pinot Noir's ordering is not easy. Pinot Noir from Burgundy tends to be the layer in the palate that is less fruity, more earthy, and with higher acidity. One of the main reasons they pair so well with food from Oregon and California. Pinot Noirs tend to be fruity or darker, concentrated, and higher in alcohol. And while red Burgundy usually has aromas of strawberry, raspberry, and cherry, Pinot Noir from warmer climates, including Oregon and California, has aromas of strawberry jam plum or bing cherry. But fruity aromas are not all there is to Pinot Noir. The better ones also have earthiness, mushroom, leather, and dry leaves aromas and flavors. And the combination of these aromas is seductive. The mouthfeel tends to be silky and smooth, which adds to the desirable qualities. So whether you're joining your Pinot Noir with a loving friend or exploring these great wines and more rational company, sit back and get ready to be seduced.
Conclusion About the Three Most Popular Types Of Red Wine
So in this episode, we discuss three typical grapes used to make red wines and the wines' general features. We talked about what these wines smell and taste like, and we also talked about what they pair well with. We offered some suggestions for you to try so you can get to know these wines better. Thanks for reading us.