Which of us has never had the pleasure of spending time in his garden and terrace? Who of us never have a good time in each other's company or alone in his garden and terrace. So many times, we think to revamp our homes precisely places such as the bedroom, the living room, and the kitchen – as many times to complete and add a touch to the well-being of living in a revamped home, we must think of relooking our gardens and terraces. This article rightly gives you some ideas and tips. Without further ado, let's start with the makeover of the garden
Summary of the Article on Makeover Your Garden and Terrace

Introduction
I – Makeover Your Garden
1 – Associate New Plants with Old Ones
2 – Create a Dynamic by Alternating the Forms of Your Plants
3 – Personalize Your Garden with a "Collection" of Plants
4 – Select 3 Plants to Potted
5 – Embellish Everything with Decorative Elements
II – Makeover Your Terrace
1 – Install an Umbrella or a Shade Sail
2 – Use a Sheet as a Shade Sail
3 – Place Old Oriental Rugs to Create a Ground Gypsy Patchwork
4. Restyle Your Old Mattresses with Sheets, Fabrics and Cushions
5 – Collect Sand, Pebbles, and Other Shells at the Beach …
6 – Place Lanterns
7 – Arrange Flower Pots, Planters and Vases
8 – Multiply the Cushions to Brighten the Whole and Bring Comfort and More
9 – Install Chiliennes, Sunbeds, Lounge Chairs or Hammocks
10 – To Vegetate Its Terrace to Make a Small Corner of Greenery.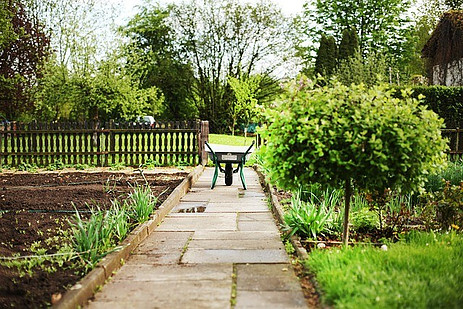 I – Makeover Your Garden
1 – Associate New Plants with Old Ones
To transform your garden, nothing like new plants! Buy two or three plants that you will associate with the plants already in place. For example, choose lavender or santolines to install at the foot of your rose, add a Mahonia Sweet winter in your azalea range.
To help you, here are two simple rules to associate plants with each other according to their colors:
– Harmonious colors: choose a new plant in the same shade variants as the plant in place to create a beautiful harmony.
– Complementary colors: opt for a new plant whose color is complementary to that of plants already present in your garden, you will get a remarkable contrast…
You can also play with the shape and texture of the foliage for beautiful combinations in your garden and terrace. The key is to focus on the effect of harmony or contrast that suits you best, to please you and enhance the existing new plantations and vice versa.
2 – Create a Dynamic by Alternating the Forms of Your Plants
Plants, including those that are present in your garden and terrace, have any particular shape natural or due to size: rounded, bushy, spreading, erect, conical, creeping … you are spoiled for choice. It's your turn!
*** Move your plants to alternate shapes
Alternate round shapes and erect forms (hazel, tortuous willow …), add new ones to create rhythm, movement, and fluidity with grasses between your plants.
Incorporate flowering stems, such as allium, agapanthus, or verbena from Buenos Aires, to overhang a massif.
With this set of simple shapes to put in place, you will get a guaranteed "makeover" effect!
3 – Personalize Your Garden with a "Collection" of Plants
To give a real personality to your garden, start a collection. As surprising as it may seem, plants too can be the subject of exciting collections.
Choose the plant you prefer in your garden and start your collection with 1 or 2 new subjects. Ancient roses, New Zealand linens, azaleas, dogwoods, magnolias, or hydrangeas make magnificent collections.
Decline your plant at will by feeding your collection of new plantations. You will quickly taste the game of research and will gradually compose an original garden that looks like you. Every walk, plant festival or garden visit will turn into a real treasure hunt!
4 – Select 3 Plants to Potted
The pots are a simple and practical solution to meet the desire for change, especially as they have the advantage of being moved and provide an essential decorative touch.
Choose ideally 3 identical pots, or vary a selection criterion: same shape and different colors, or different shapes and same color. Their diameter or width should be about 2½ times the wingspan of your plant.
The plants most suitable for pots are robust plants such as New Zealand flax or boxwood. For a more graphic effect, very marked plants are ideal: Cordyline, Eucalyptus, Japanese Maple… bring a touch of originality to your plant space.
5 – Embellish Everything with Decorative Elements
Beyond pots, accessories and decorative elements are an integral part of the garden. Not Japanese, tables, chairs, and garden lounges are all basic elements that are not always enough to "tell a story".
To quickly give a character to your garden and terrace, choose a theme and decline it on all your plant space: animals (cats, hens, flamingos …), colors, or materials (zinc, driftwood) can be the basis of your decoration.
Then choose the accessories related to this theme: think of watering can, tutors, bird feeders, wooden cabins, pebbles, mulching … gardening and decoration stores are full of ideas! Let your imagination speak: the unexpected is in the detail!
II – Makeover Your Terrace
Just like our stay, a terrace is a place where you can laze, chat with friends or gather the family around large meals.
It makes us enjoy the warmth of the sun but also light breezes, refreshing shade, and natural light. The terrace, this place reserved for relaxation, requires comfortable and practical furniture but also decorative accessories to brighten up the atmosphere. Customize a terrace with a small budget, it's a breeze!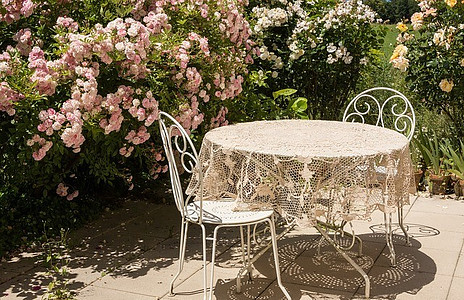 1 – Install an Umbrella or a Shade Sail
You can find a colorful umbrella and a shade sail. These two elements are essential to give some shade to your sunny terrace. In addition, they usually offer very pretty bright colors that will brighten the mood.
2 – Use a Sheet as a Shade Sail
Also, think of the sheet to protect you from the sun and give a bohemian look to your terrace. The best is to use one that has already lived or tinting … Depending on the style you want to give, you can also buy a new or old in a garage sale.
3 – Place Old Oriental Rugs to Create a Ground Gypsy Patchwork
If your garden and terrace are well protected, recover your damaged carpets to create a warm patchwork that will bring cachet to your terrace without spending anything!
4 – Restyle Your Old Mattresses with Sheets, Fabrics, and Cushions
They will create a very relaxed lounge atmosphere which you will like to enjoy with those around you. A little music, a few sticks of incense, and candles will decorate the decor.
5 – Collect Sand, Pebbles, and Other Shells at the Beach…
To give your garden and terrace a holiday spirit at the beach or a Zen garden look, do not return empty-handed from your stay at the sea: white sand, pebbles, and shells will do!
6 – Place Lanterns
To brighten your summer nights, think about solar lights. They are rarely expensive; they also have trendy looks and plunge your terrace into a beautiful bright atmosphere.
7 – Arrange Flower Pots, Planters and Vases
Plan your terrace with plants and flowers and focus on their containers. Whether it's a planter, a pot, or a vase, choose it colorful, bright, matte, zinc, etc. It's up to you to give a real style to your terrace!
8 – Multiply the Cushions to Brighten the Whole and Bring Comfort and More
They are practical and there is something for everyone: the cushions will transform your terrace thanks to their cozy spirit, their colors, and varied prints.
9 – Install, Sunbeds, Lounge Chairs or Hammocks
Deco signs specializing in outdoor gear now offer very comfortable seats at affordable prices. Starting from twenty Euros, sunbathing from thirty … Otherwise, the relaxing chairs generally used for the beach and camping defy all competition: twelve Euros the first prize!
It takes about thirty to forty Euros for a basic hammock. It's also a good idea for your patio. It will give side idleness which you will also enjoy!
10 – To Vegetate Its Terrace to Make a Small Corner of Greenery.
Transform your garden and terrace into a little green area. It only takes a few green plants, maybe vine, or other flowering plants to create a Zen atmosphere in which one feels good. We help ourselves, we relax, we breathe, and in short, we live again.
Some tips:
Tip 1: Give new life to your old furniture by painting them with special paint for the outdoors.
Tip 2: If your table is not very pretty, think of the tablecloth!
Tip 3: Instead of a couch, create a bench with wooden planks!