What do you know about traditional Slovenian Food and Drinks? Are you ready for this tour to discover Slovenia under its gastronomic aspect? So, Let's Go!  Let's say, in general, cooking, gastronomy, and drinks in Slovenia.
Slovenia. Yes, Slovenia. You may have heard of this wonderful country: Slovenia. Slovenia is a central European country known for its mountains, ski resorts, and lakes. On Lake Bled, a glacial lake fed by hot springs, the town of Bled has an island on which stand a church and a medieval castle on a cliff. In Slovenia's capital, Ljubljana, Baroque façades sit alongside 20th-century monuments designed by Slovenian architect Jože Plečnik, including the iconic Tromostovje (Three Bridges), which straddles the narrow, winding river Ljubljanica.
It may also be that it's capital (Ljubljana), for currency, currency (Euro), for President (Nataša Pirc Musar), and for official languages (Slovenian, Italian, Hungarian).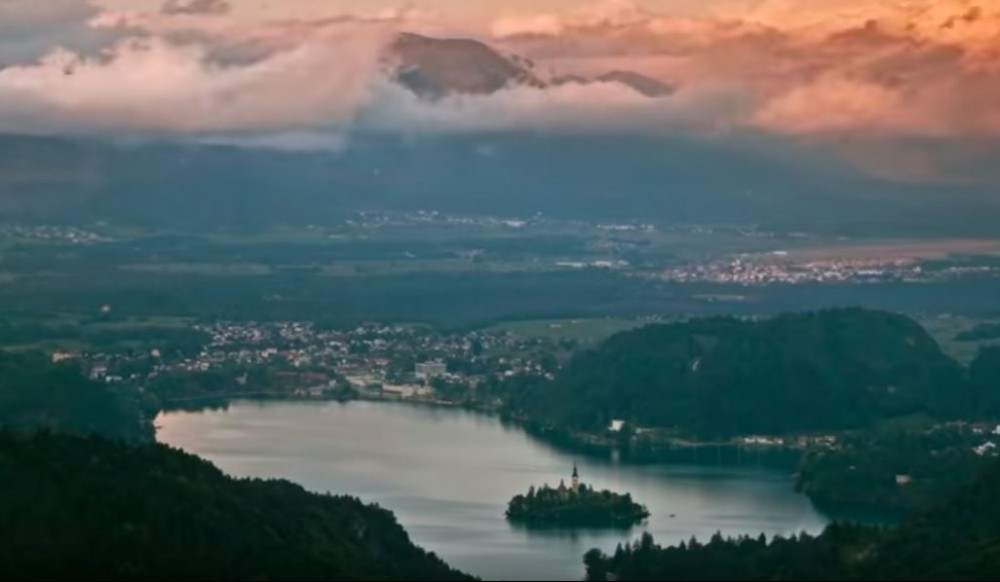 I – Traditional Slovenian Food and Its Evolution
An old Slovenian proverb says, "Love goes through the stomach." Slovenians are very proud of their cuisine, and the more you know about it, the more you discover its different flavors, and this proverb proves to be correct. For many of us, discovering new gastronomy during the holidays rhymes with pleasure. We visit France for cheese and wine and Italy for real pizzas! So what does Slovenian food look like? Read on to find out more! And who knows, maybe you will be tempted to visit Slovenia!
You never intended to visit Slovenia? Or are you looking for a solid reason to visit Slovenia? Well, this culinary journey will inspire you to visit Slovenia.
The most fantastic thing about Slovenian cuisine is undoubtedly its incredible diversity. It does not have one, but several types of cuisine. Some experts even suggested that there were forty. Such diversity is comparable to the gastronomy of much larger countries. Slovenian cuisine is strongly influenced by its border countries. We can thus find Italian, Austrian, Croatian, and Hungarian influences. The abundance of delicious pasta dishes and pastries is a nod to the Italian influence, while the popularity of strudel can be tied to Austrian cuisine. The many pork dishes come from Hungary, and the deli platters are German-inspired. The seven regions of Slovenia also play a role in the definition of cuisine; they have each interpreted the traditional cuisine in their own way.
Slovenian cuisine has evolved over the years, with a marked trend towards healthy food.
Traditional cooking is often difficult to digest because of its high caloric share and changing lifestyles. The "Slow Food" movement, known in the 1980s, was adopted without reserve by Slovenians, reflecting changes in culinary traditions. "Slow Food" was a reaction to the growing importance of fast food. So it's no surprise that Slovenian food, which requires preparation time, has kept pace!
Slovenian food is becoming healthier, and Slovenians are also adopting dishes that are already very popular worldwide to suit their cuisine. Although there have always been specialties of stews and porridge, soup has recently been a relatively new, popular dish. Slovenia now offers more than a hundred soups, but those made with meat are only served on Sundays and holidays.
If you ask a Slovenian to name a typical dish, it is difficult for him to answer as that of his neighbors influences the cooking.
When Slovenians go out to restaurants, they mainly eat pizzas (cooked over a wood fire and usually very good) or schnitzel in Austrian fashion.
The toothpick is widespread in Slovenia, you will find it on the tables of all restaurants, and you will learn how to use it with skill and discretion!
Let's see some main Slovenian dishes.
1 – The Main Traditional Slovenian Food
Throughout the year, including in the middle of summer, Slovenians often start their meal with soup or soup offered on most menus of the day at the restaurant. This is usually beef soup, but you can also serve a chicken consommé, a vegetable soup (close to the Italian minestrone), or a mushroom soup (sometimes served inside a loaf).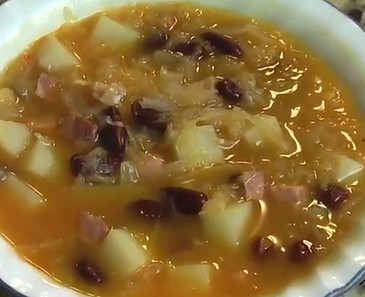 You will then be offered the following main courses:
– Jota: a thick soup made from cabbage, beans, and barley that tastes close to cassoulet.
– Štruklji: stuffed pasta boiled in water that can be made of cottage cheese, spinach, tarragon … More than a hundred variants across the country!
– Žganci: a dish made from oatmeal. The best known is ajdovi žganci buckwheat, served with pieces of pork fat!
– Ocvrti sir: Fried cheese.
– Polenta: semolina made from corn flour.
– Kruhovi cmoki: dumplings made from bread.
– Žličniki: balls made of potatoes and filled with different fruits, boiled, covered with melted butter, sugar, or breadcrumbs, and served in the soup or as an accompaniment.
– Mešana solata: mixed salad (green salad, red beans, white cabbage, beets, and tomatoes) served as an accompaniment. One alternate between the main course and the salad, and in the family, each one is often used with a fork in the salad bowl in the center of the table.
– Žlikrofi: ravioli, which is the specialty of Idrija, north of Ljubljana.
– Divjačina: deer, deer, bears in season! Often prepared in sauce and accompanied by cranberries.
– Sladkovodne ribe – Freshwater fish.
Influences on the Traditional Slovenian food
– Italian-inspired dishes: njoki(gnocchi), šunka(ham) kalamari(calamari) and sir(cheese) or tržaška omaka(Trieste sauce) (ailloli), pršut (the equivalent of Italian prosciutto).
– Hungarian-inspired dishes: bograč (goulash), tunka (pieces of salted pork, dried, smoked, then grilled and topped with lard).
– Austrian-inspired dishes: dunajski zrezek (Viennese schnitzel).
– Balkan-inspired dishes: burek (giant stuffing with cheese or meat), čevapčiči (rolls of beef and pork mixed), pleskavica (the same mixture of beef and pork, but in the form of hamburger, sometimes stuffed cheese). These dishes, which are found throughout the former Yugoslavia, are prepared for picnics and barbecues in the summer or consumed as "fast food" at lunch or at the exit of nightclubs!
That's not all; let's take a look at some traditional Slovenian dishes with even more details.
– Ajdovi Žganci
Ajdovi žganci is the national dish of Slovenia. It translates as "buckwheat porridge." It is a simple dish made from buckwheat flour, croutons, and oil, traditionally served with stew, sauerkraut, or sausages. As buckwheat grows in abundance in Slovenia, it is naturally a staple ingredient in the country's porridge, bread, and stews.
– Belokranjska Povitica
Belokranjska povitica is a typical pastry consisting of a cake dough stuffed with cottage cheese, eggs, cream, oil, and butter. Once the finished dough is, it must rest for at least an hour before being spread as thin as possible, then rolled into a wheel shape.
– Bujta Repa
Bujta repa is a typical Slovenian pork dish you will find throughout the country. "Bujta" comes from the word "kill" and the hot dish is ideal for surviving cold winters. It is prepared from the fat parts of pig heads mixed with sour turnips. Millet porridge is also often used in the preparation. It was. Once eaten after slaughtering pigs, a thick soup is prepared by tossing all the ingredients into a large saucepan and simmering slowly.
– Kranjska Klobasa
The most famous sausage in Slovenia is certainly "Kranjska klobasa." It is usually quite small and made with a few ingredients: pork, bacon, salt, pepper, and garlic. Slovenia is constantly seeking to obtain from the European Union the protected designation of origin for this sausage, despite the repeated objections of Austria and Croatia!
2 – Pastries
– Potica: roll cake with nuts, hazelnuts, or tarragon (pehtranova potica), considered Slovenian par excellence.
– Zavitek (sort of slipper) with apples (jabolčni zavitek), cheese (sirov zavitek) or sour cherries (višnjev zavitek).
– Gibanica: between two layers of puff pastry, apples, nuts, poppy seeds, raisins, and skuta (curd) were slipped. Covered with cream, this Prekmurje cake (on the Hungarian border) is served hot: not dietetic, but delicious!
– Palačinke: pancakes (served by two) topped with chocolate, jam, or nuts and served with whipped cream.
II – Beverages
We order the drinks as soon as we sit in a restaurant, at the moment the waiter brings you the menu.
1 – Wine (vino)
Slovenia is a wine country, and the wine is worth tasting. The quantities produced are small and, apart from trade with Croatia, exports are limited to a few restaurants and shops abroad. There are three major production areas.
– Primorska (West): red and white. The most typical is Teran. Grape-based on limestone plateaus. It is a wine rich in iron and amino acids, with a very particular taste that hangs on the palate. We like it or not! It blends perfectly with the pršut (Slovene prosciutto).
– Podravje (East): mostly whites and some reds. In particular, sweet and sweet wines, such as muscats, are found, which go very well with desserts.
– Posavje and Dolenjska (East and South-East): red and white. The most typical is the Cviček, a red wine, almost rosé, very low in alcohol, and pleasant to drink in summer. The Slovenes have obtained from the European Union that the name Cviček is reserved for the wine produced in this region.
Do not be surprised, even if it may shock the purist (or any Frenchman in general!): Slovenes sometimes consume red wine with orange soda (Bambus) or white wine with sparkling water ( Špricer).
At the table, the wine can be ordered by bottle (buteljka), decilitre (1 or 2 as you wish), or carafe (namizno).
2 – The Beer (pivo)
Two large breweries exist in Slovenia (Laško pivovarna and Union pivovarna). These beers are widely exported to the Balkans, and each has fervent supporters!
Several small breweries are producing beers served only in the restaurants of these breweries.
We will bring you a pint (half a liter) if you ask for a beer without further details. Specifying malo pivo (small beer) or veliko pivo (large beer) may be useful. Brown beer is called temno pivo, blond beer svetlo pivo.
3 – Strong Alcohols
You can taste different spirits (Žganje): slivovka (made from plum), brinjevec (juniper), medica (honey), Pleterska Hruška (or viljamovka, with pear) …
4 – Hot Drinks
– For tea lovers, the choice is often limited to black tea, called real tea, Pravi čaj, or Russian tea, ruski čaj, and fruity herbal teas.
– The tradition of coffee (kava) to Italian, and excellent cappuccino with a divinely light foam!
– Hot chocolate (Vroča čokolada) or cocoa (kakav).
5 – Juices and Sodas
To order fruit juice, ask for sok. You will usually be served fruit juice from Fructal brand, the leading Slovenian producer. Little known in Western Europe, this fruit juice is of very good quality and is mainly exported to the Balkans.
For sodas, all the usual brands are available.
But it would be a shame to visit Slovenia without tasting the Cockta, a Slovenian soda based on the rosehip and without caffeine, which has the color of Coke. A special taste that pleases here, as we realize at the coffee terraces in the spring!
III – Desserts
There are two main popular desserts throughout Slovenia. Potica, a delicious rolled nut cake, is the ultimate Slovenian dessert. The sweet dough is spread very thinly and then wrapped with the walnut spread. This is the kind of cake that all grandmothers in Slovenia make at least once a week! It is usually a fairly firm cake for which there are different variations. You can expect to find chocolate, poppy seeds, or hazelnuts in Potica. It is especially popular at Christmas time!
Prekmurska Gibanica is a kind of layered cake containing apples, nuts, raisins, and ricotta. Dessert is popular in rural areas and reflects the fruits that grow in these parts of Slovenia. It is a classic of Slovenian cuisine and has even been chosen to represent the country at "Café Europe," an initiative organized by the Austrian government in 2006!
In Summary
– There are more than 1200 different Slovenian national dishes!
– Dandelion is a popular ingredient for salads, which was harvested in the spring for centuries. The dandelion and apple salad is a real treat!
– Lunch is the most important meal of the day in Slovenia!
– Slovenia hosts several bizarre festivals and culinary holidays: the cabbage festival, the salt producers' festival, and the bean day!
Well, you have good and encouraging reasons to visit Slovenia. Pack your bags! Take your flight. Do not worry about the stay or the reception. Would you like to have a guide?